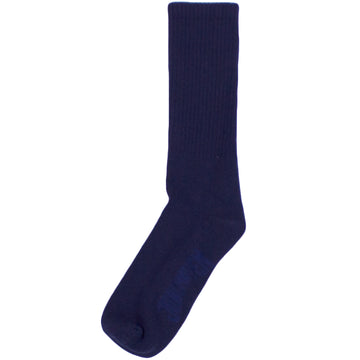 Aussie Hemp Wool Socks / Navy
Jungmaven
Regular price $0.00 $48.00 Sale
A crew sock made from a blend of hemp and Merino wool fibres that wick moisture away from skin while absorbing odour. Both hemp and Merino are 100% natural, renewable and biodegradable fibres.
Details:
Unisex  - US 6-12, EU 38-45, JPN 24-29, UK 6-11
45% hemp, 35% wool, 15% polyamide, 5% spandex
Made in China*
*Due to regulations around hemp products, hemp socks are currently made in China. Jungmaven works closely with their supplier there to ensure safe working conditions and responsible sourcing.

About the brand:
From roots of simplicity and sustainability, Robert Jungmann created Jungmaven in a sleepy surf town in Central America where the natural rhythms of life seamlessly evolved into the brands mission. With the wisdom that the Earth deserves our love and care, came a passion for hemp fabrics. Jungmaven believes fashion is a form of activism and by creating beautiful, high quality hemp clothing we can choose to choose to use our dollars to demand change.