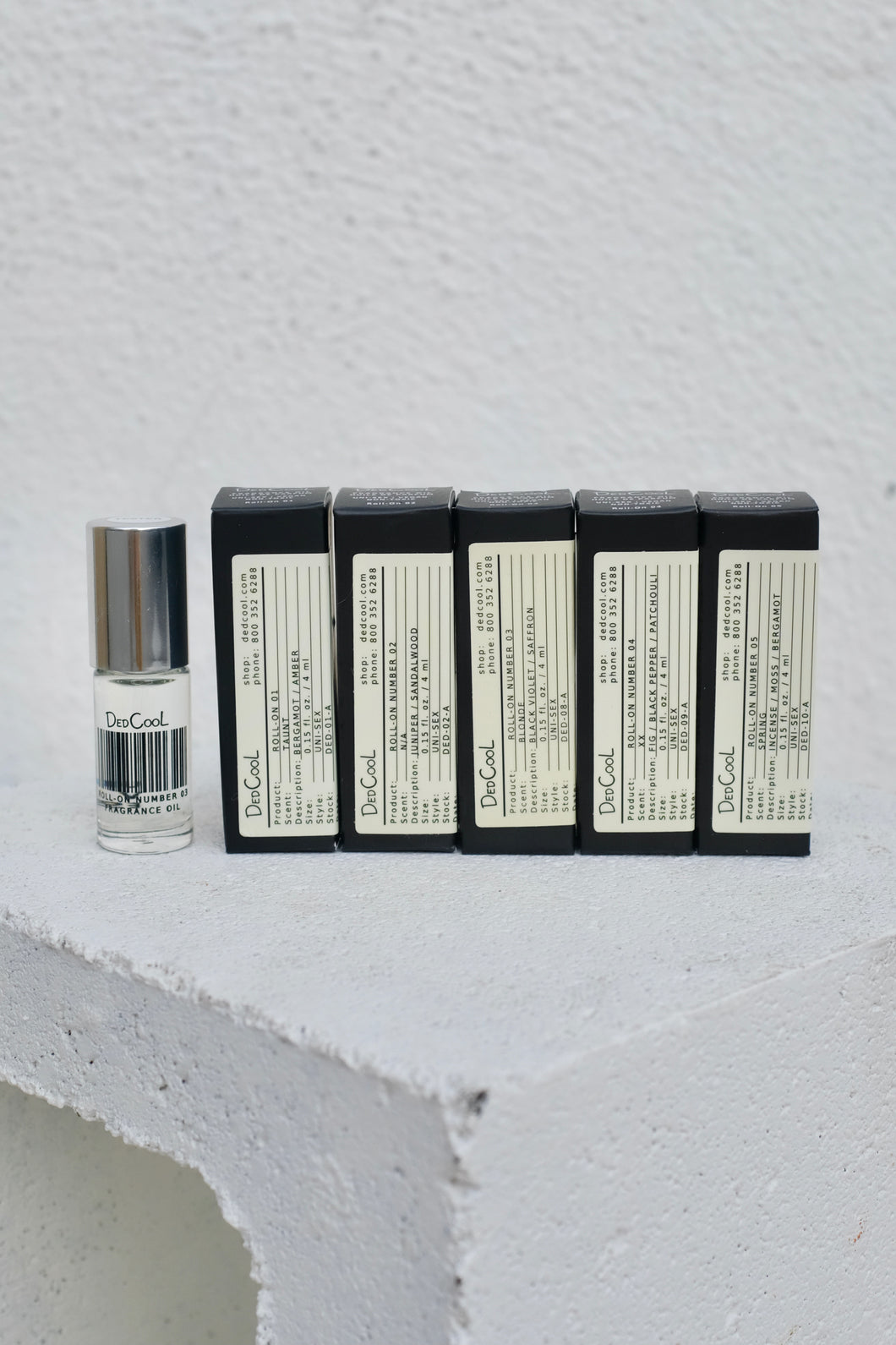 Roll On Fragrance
DedCool
Regular price $55.00 Sale
5 ml glass bottle of perfume oil with roller ball. Made in small batches in Los Angeles, these uni-sex fragrances are 100% biodegradable and plant based, and made from a blend of beneficial, certified organic extracts.
Scent profiles:
"The sensual notes of 01 create a beautiful blend of amber, vanilla, and fresh dew that is sweet yet subtle."
"The 02 roll-on intermingles rich hues of sandalwood and juniper berries to craft the unflawed musky dark aroma mixed with green florals."
"This dirty violet and saffron accord will lead into a crystal rose aroma, that faintly undertones the scent of blonde woods. 03 will stain your skin with the light notes of black violet and blonde woods combined with sweet and floral hints of saffron."
"Founder favourite, roll-on 04 is refined with notes of black pepper, lemon, and fig to dilute the trace of patchouli. 04 is your go-to scent for that nice gender-neutral scent, the woodsy, the pepper and sage tones highlight the soft patchouli note."
"The fresh citrusy scent will be among your favourite "boy smells". Infused with moss, incense, and bergamot to fulfill the eccentric moods of spring. Stolen by your boyfriend, imagine that masculine scent that makes you weak in the knees. 05 holds nostalgic hints of star anise with moss and incense."
About the brand:
Dedcool's mission has always been to create fragrances that are accessible and environmentally sustainable for people and the planet. How do we do it? Vegan ingredients (and cruelty-free), biodegradable formulas (as clean as it gets), water-free fragrances (means longer-lasting, better for the environment), recyclable packaging (and FSC-certified), in-house manufacturing (reduces our carbon footprint, and uses less energy), locally sourced raw materials (to reduce emissions). 
(All personal apothecary and fragrance items are final sale and not eligible for refund or exchange. As our products are handmade and formulated without synthetic preservatives, please store your fragrance items away from heat and light for maximum shelf life.)